Thank you for choosing the Lac Vieux Desert Health Center for your healthcare needs. Whether you come to us by referral of another healthcare professional, or like many others, by the referral of a friend or relative, we will strive to provide to you with the best care and service possible.
New patients can download our new patient registration packet via the link below. Once completed and signed, you can either email us a signed and scanned copy to reception@lvdhealthcenter.com, or you can hand-deliver it to our Watersmeet location. Our team will review the packet information as well as the transferred copies of your medical records and can then assist you with making your first appointment.
Download Your Registration Packet Now
We recommend patients check with their insurance carriers to verify if services provided would be processed "in network" and if any expected or recommended procedures are covered.
For your first visit with us, we ask that you bring your current insurance card as well as any supplementary insurance cards so we can enter that information into our system. Tribal members are welcome to bring their Tribal ID for registration.
LVDHC Clinic Patient Portal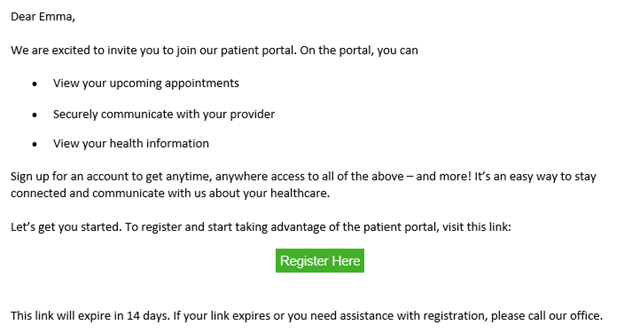 We are pleased to provide all our patients with access to our online patient portal. Here you can schedule appointments, send and receive secure messages to and from your provider, review your health records, and much more.
When patients register with us for the first time, we will send an email invitation to register for a patient portal account. If you do not see a registration email in your inbox, please check your spam folder. If you did not see a registration email at all or if the registration link has expired (>14 days), please either call or send an email request to reception@lvdhealthcenter.com
After you receive your patient portal registration email (See example), select the Register Here button.